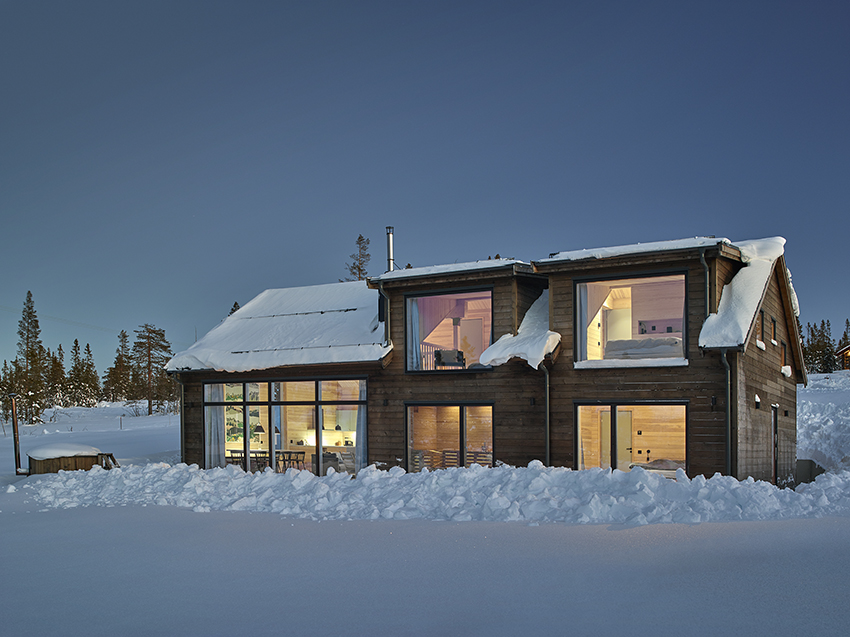 A modern mountain retreat.
A modern mountain retreat with a sensitivity to traditional local building craft and vernacular. Contemporary comforts are sensitively balanced with local timber building traditions. Routes through an enchanting landscape lead up and down the slopes – and in right into this gracefully articulated living space.
Project Facts
Type Housing
Location Jämtland
Year 2017
Area 91.1 M² (BOA) + 61.8 M² (BYA)
Team Carolina Wikström, Ana Garcia-Avello Mendez, Rupe Vargas, Albin Frech
The idea
The timber motif reflects the spirit of nature outside. The large windows combined with the versatility of the wood creates warm and breathable interiors for the users while offering views of the outdoors. The dark exterior and the light wood interiors create a striking contrast. The local vernacular architecture is adapted for the construction of the house. The open layout is space-efficient and features an overlooking nook from the roof.
Interior
In the heart of the house, common spaces gather around a fireplace in a double-height volume, while the upper floor offers extra sleeping spaces in authentic mountain lodge style. The wooden panelling imbues this cosy retreat with bright elegance. With touches of nature in its design, you can breathe the forest from inside, while glimpses through its large windows entice you out onto the slopes.
The Site
Nowadays Klövsjö attracts visitors during its beautifully warm summers and magical alpine winters when the preferred mode of transport is on two skis. The house accommodates a family and their guests, with beds for ten and a detached garage. Opening out onto the terrace, the living spaces, sauna and master bedroom are framed by the enchanting landscape outside.
Exterior
A modern cottage retreat that combines traditional timber construction and contemporary design. With its construction technique and local vernacular-inspired form, Klövsjö fjällstuga nestles comfortably into the historic landscape, populated since the Middle Ages with timber farmhouses.
Collaborators
All material is sourced locally by a family-run saw-mill called Ola Nilsson Såg & Hyvleri. Timber is also from the local forest.
Website: http://www.virkedirekt.se/galleri/