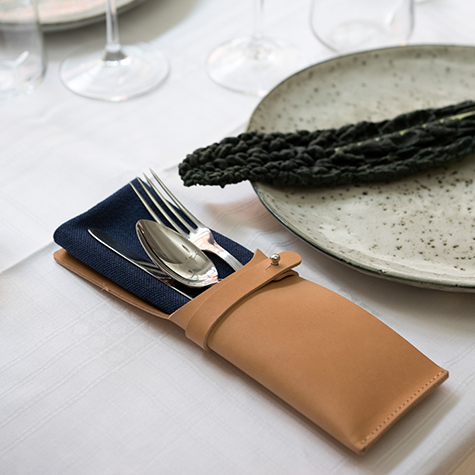 The smart way to showcase your silverware.
Sleeve makes it effortless to showcase, use and store your cutlery.
Project Facts
Type Product
Year 2016
Team Carolina Wikström, Rupe Vargas
The idea
The Sleeve is designed to elevate any table, from the restaurant to the breakfast room. It's perfect for those who enjoy a well-dressed table, or those who just want to add a little magic harmony to hectic mealtimes. With the small gesture of placing your silverware in a Sleeve, your table is set for family dinner and luxurious dining. It's as simple as that!
Our vision
Your home is the building and everything in it: at Asante we recognise the importance of design at all scales. When we set out creating Sleeve, we wanted to create something small and smart that would add a ritualism to sitting down to eat.
The Sleeve is designed and manufactured in Sweden and made out of vegetable ­‐ tanned leather, giving it a enduring, quality feel. Four different colours are available: Nude, Sunset Orange, Bark Brown, and Black.
Sleeves are packed in pairs.
Credits
Elin Sylwan
https://elinsylwan.com/