A sports centre
Translating a decade-long vision into architecture integrated with the local terrain, Sollentuna Friidrottshall is one of Scandinavia's most modern indoor athletics centres.
Project Facts
Type Sports Centre
Location Sollentuna
Year 2016
Area 6500 m²
Team Carolina Wikström, Frida Öster
Vision
The municipality had long envisioned a venue that balanced the needs of the local club with a building design that integrated well with the existing sports ground and the local landscape. There had been decades of lobbying work and more or less complete, yet unimplemented proposals.
Many of the greatest architectural challenge stemmed from the site's sensitive location by sea bay Edsviken and natural surroundings popular among locals and of great cultural and historical significance.
The Site
The sports ground of Sollentunavallen, 15 km north of Stockholm, was established in 1969 by local athletics club Turebergs FK — known to have fostered the talents of former high jump world champion (and current UNICEF ambassador) Kajsa Bergqvist.The site lies in an old gravel pit on a 60-kilometre long esker known as "Stockholmsåsen" or "Brunkebergsåsen", which stretches across the county of Stockholm and through the central parts of the capital.
"We wanted the building to interweave with the esker; making that possible required close collaboration between architect, landscape architect, and constructor".

– Lena Svanberg, Bleck Arkitekter
Exterior
There was a concern that the building height could result in an over-imposing presence on the local area with residential neighbourhoods.
At Asante, we worked alongside Bleck Arkitekter to integrate the facades with the grassland and local landscape. Bringing fresh-thinking solutions to old plans, our focus was on realising the municipal vision of a structure that meshed organically with the surroundings. The resulting exterior is delicately hidden in the grassland and barely visible from afar with its organically curved roof in sedum cladding and soberly coloured façade in COR-TEN patina.
Interior
The interior is designed to enhance human dimensions in what is essentially a large-scale building. The detailed development plan posed strict limits on height, which had to be balanced against the need for vertical room that certain sports activities pose. The solution was to strategically curve the ceiling using a steel body and pillar in the middle of the interior sports hall, reducing the building height in a sloping fashion towards the section containing the café, fitness center, and dressing rooms.
Sedum cladding
Sedum is a method to create a biodiverse, green, light-weight roof that is relatively self-maintaining. It requires little water and nutrients and is highly resilient to extreme weather, insects, pests, and diseases.
Weathering ("COR-TEN") steel
Weathering steel forms a stable rust-like patina following several years of weather exposure. It was originally developed in order to eliminate the need for painting and is maintenance-free. The exposed raw surface gives a beautiful surface with a patina.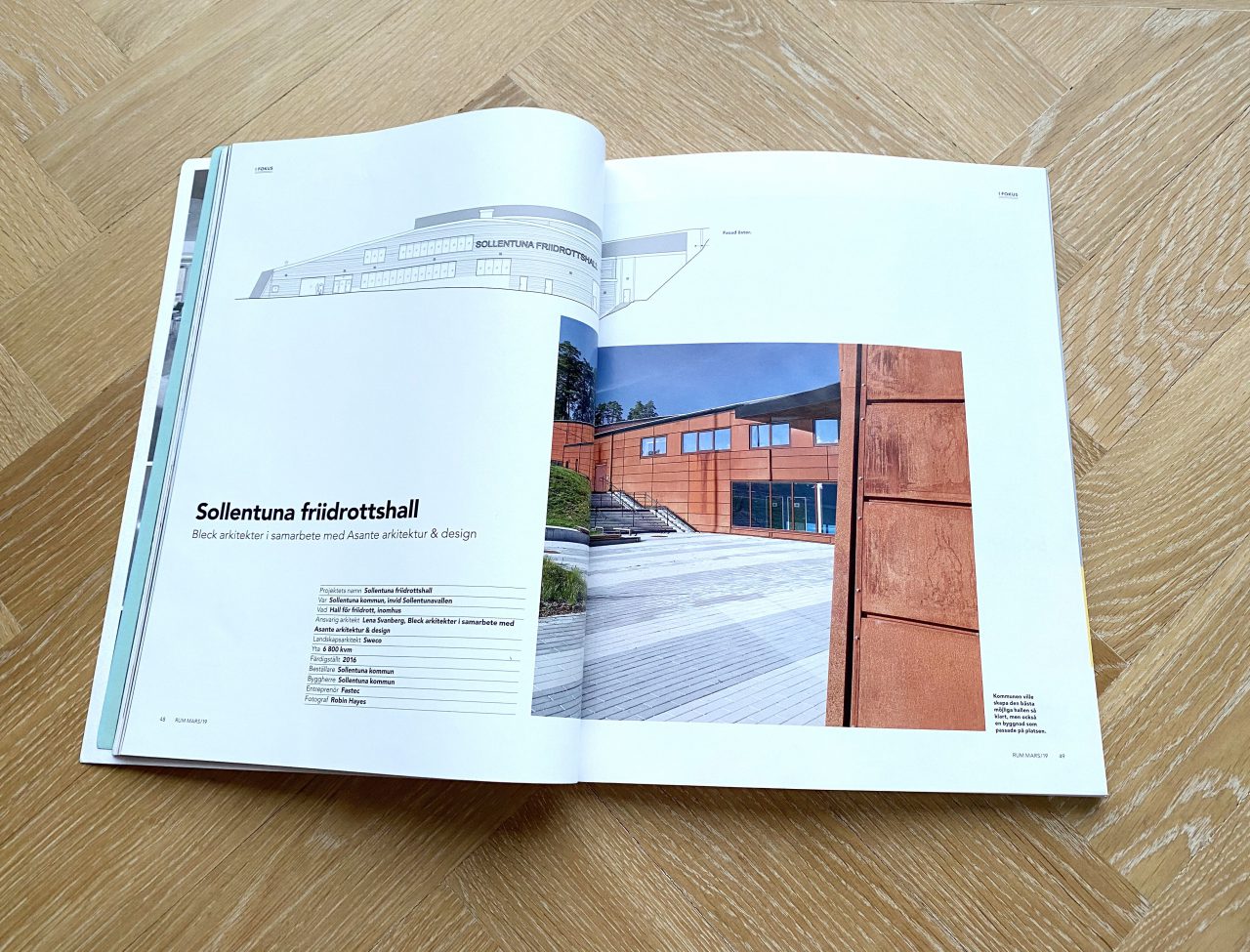 RUM, March, 2019. (Magazine)